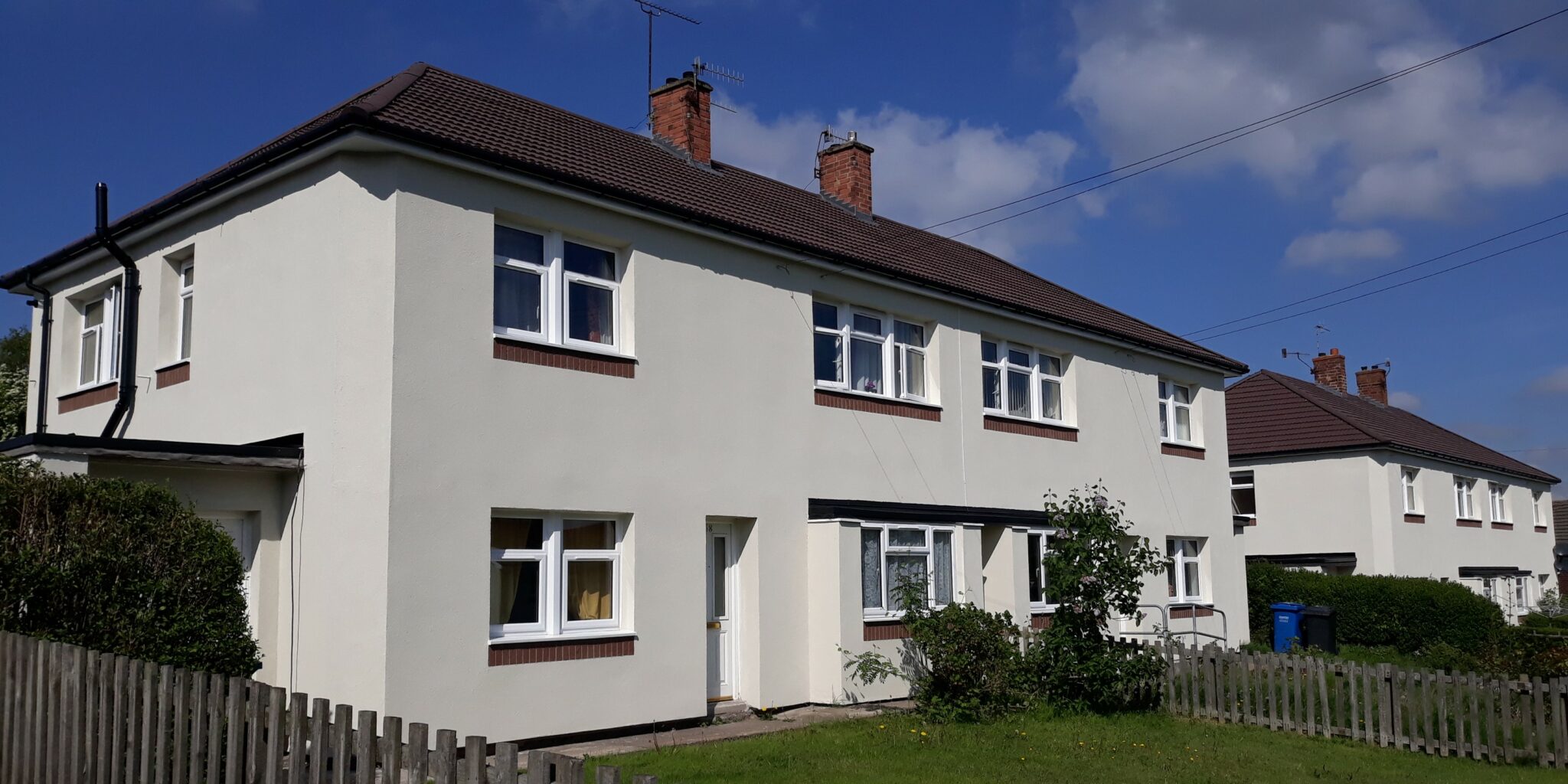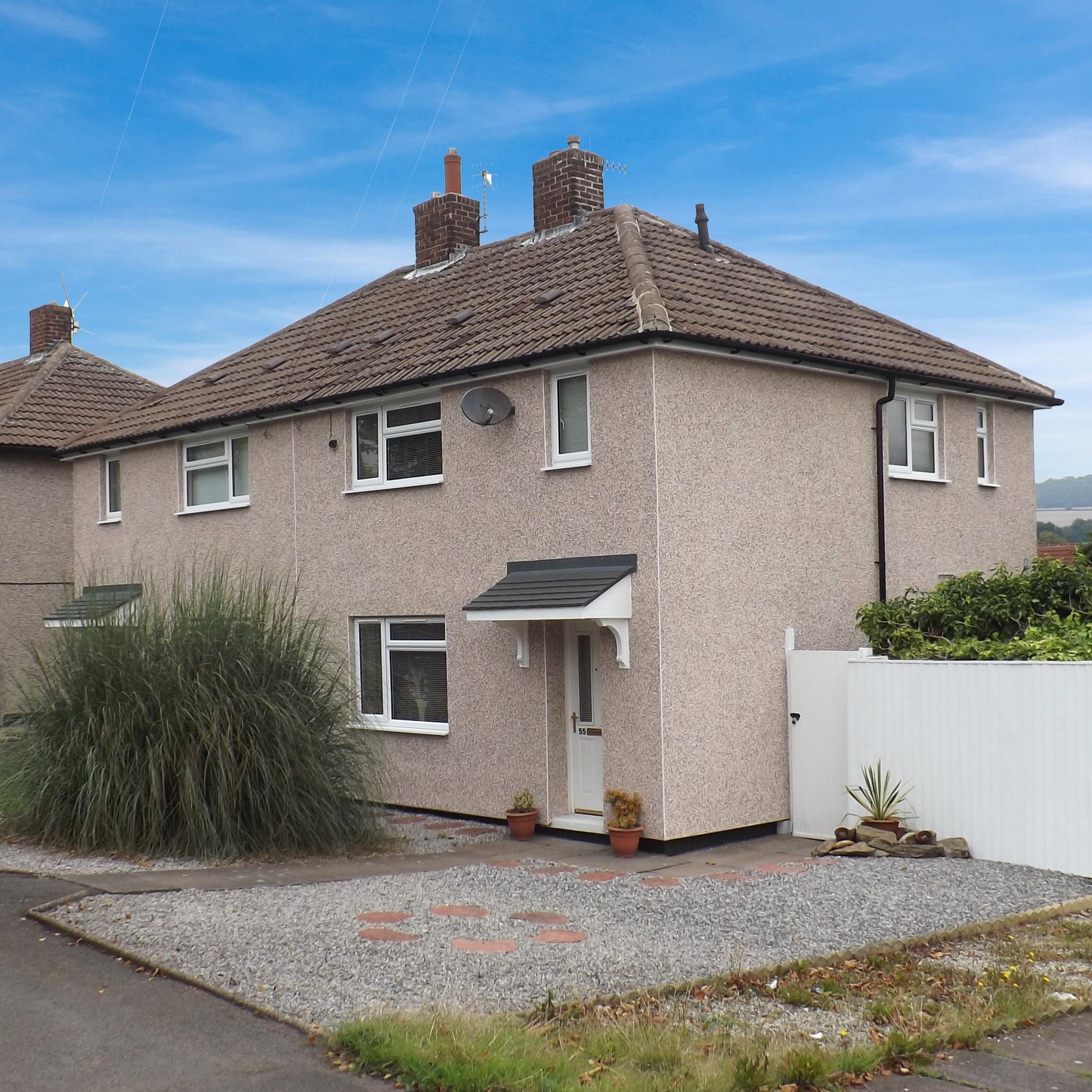 Multi-Measure Energy Efficiency Works
Chesterfield, England
Project Value: £16m
Introduction
Having secured a place on a four year solid wall insulation framework managed by Efficiency East Midlands (EEM), Sustainable Building Services was commissioned to install external wall insulation (EWI) to 558 council-owned properties in Chesterfield.
The project entailed installing external wall insulation and weatherproof decorative render to a mixture of houses and low-rise blocks, all of which were originally built with solid walls and therefore exhibited poor heat retention. The installation of EWI would substantially improve the buildings' energy efficiency ratings and would therefore improve residents' quality of life.
In addition to fitting EWI, the proposed works also included installing top-up loft insulation in order to bring the levels up to the recommended depth of 270mm for mineral wool. Associated adaptation works included the renewal of fascias and soffits, the extension of pipes, sills and central heating vents, and the installation of new fibreglass canopies to some properties.
Sustainable Building Services won the contract on the basis of best value, quality assurance and its commitment to ensuring that its work would deliver important social benefits – including creating local jobs and training opportunities wherever possible. It therefore made detailed mobilisation plans in the pre-contract stage to ensure that it could engage quickly with local suppliers and key stakeholders such as training bodies and social enterprises. Prior to the commencement of works, the company also began recruiting local tenant liaison officers who would facilitate communications with residents and provide a constant 'on the ground' presence – answering any questions, helping to prevent 'no-access' delays and generally representing SBS within the community.
The project
Work began as soon as another EEM-appointed contractor had completed a series of energy-efficient window replacements. The EWI system chosen for the initial phase comprised an 8-10mm Wetherby WBS-DA2 polymer finish over Kingspan Phenolic K5 External Wall-Board.
With the benefit of local knowledge and the support of locally appointed tenant liaison officers,  Sustainable Building Services made excellent progress, forging well ahead of the original schedule. Strict quality controls ensured that standards were met consistently, despite the fast pace of completions, and a keen focus on costs delivered appreciable savings throughout the duration of the scheme.
Results
SBS maintained its speed and quality of work, such that all 558 of the initially selected properties were completed five months ahead of schedule. So effective was the company's approach, in fact, that Chesterfield BC then directly commissioned SBS to undertake a further two phases under the same framework. The second phase entailed work on around 170 properties and phase 3 entailed works on around 200 more. These included solid walled properties of varying designs.
The decision to award additional works to SBS was based not only on the quality of the work but on the savings it was able to deliver. Its association with the energy company E.ON also helped the project by bringing in additional funding.
During the work, SBS maintained an exemplary H&S record and received excellent feedback from the client, which specially noted its willingness "to go the extra mile."
For Phases 2 and 3, the chosen EWI system was EPS Premium with a Silicone Ultra-K finish, both of which were manufactured by Loughborough-based Permarock Products.
The scheme was named a finalist in the 'Project of the Year' category of the annual BCEM Awards. All three phases were completed on schedule and on budget, and produced excellent customer satisfaction scores.
PAS 2035:2019 / 2035:2019 Roles (SBS Supplier Network)
N/A
PAS Energy Efficiency Measures
External Wall Insulation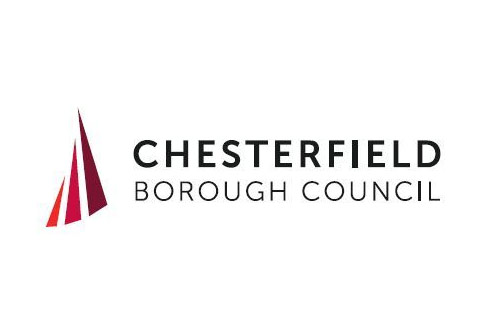 "I have found SBS to be an excellent contractor, the EWI programme that you have been undertaking for over 2 years has run with minimal fuss and problems and completion dates and costs have been on target. You are always open to discuss issues and often highlight areas where you believe there could be future problems and I have found you to be professional, efficient and always ready to go the extra mile. The tenant liaison has been of the same standard and I would like to commend the two liaison officers for their hard work. The people involved in running the contract for SBS have been without doubt integral to its success I would like to thank Lee Rodgers and Dan Owens for their hard work and commitment."
– Richard Furniss, Chesterfield Borough Council's Business Planning & Strategy Team