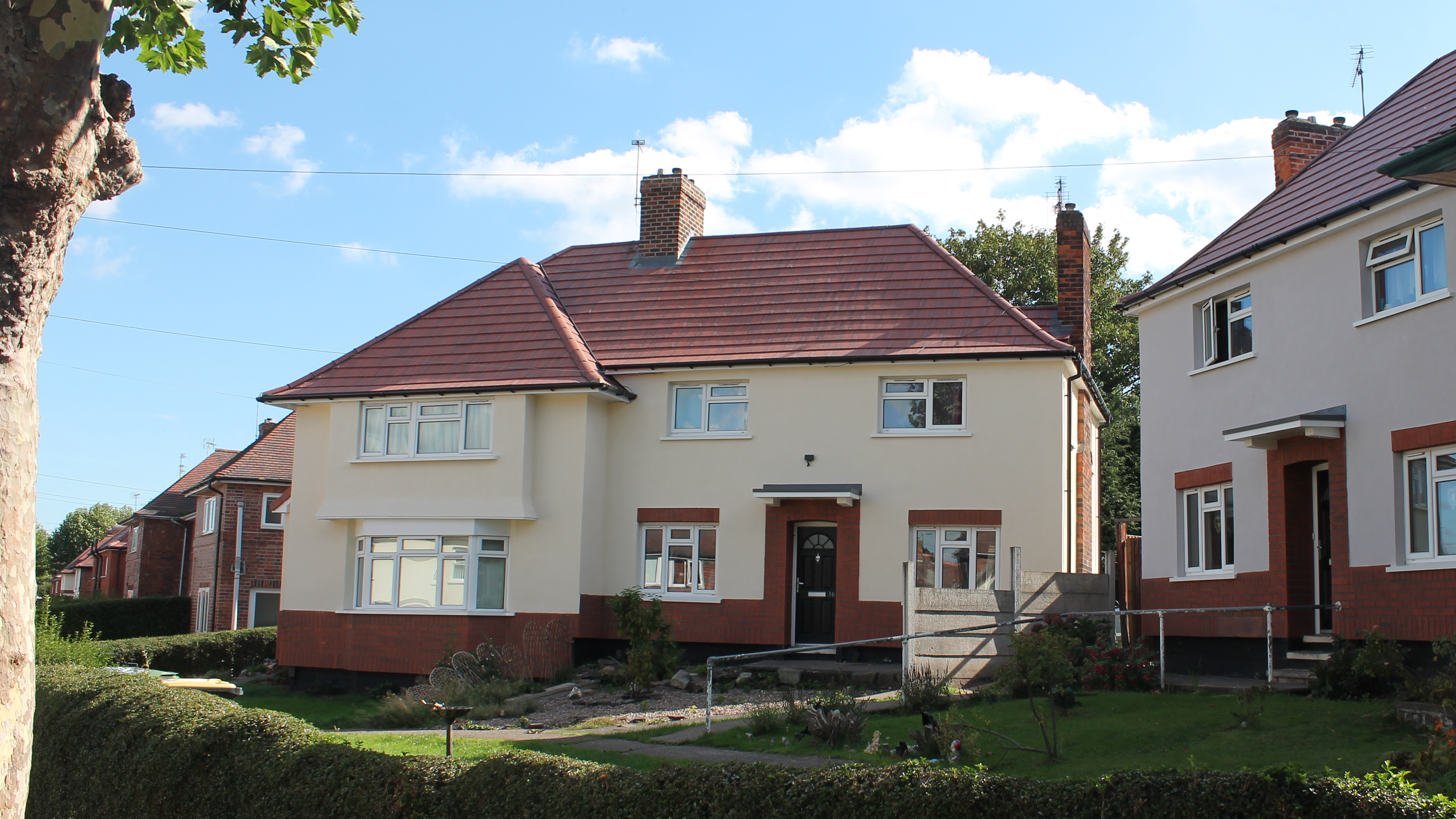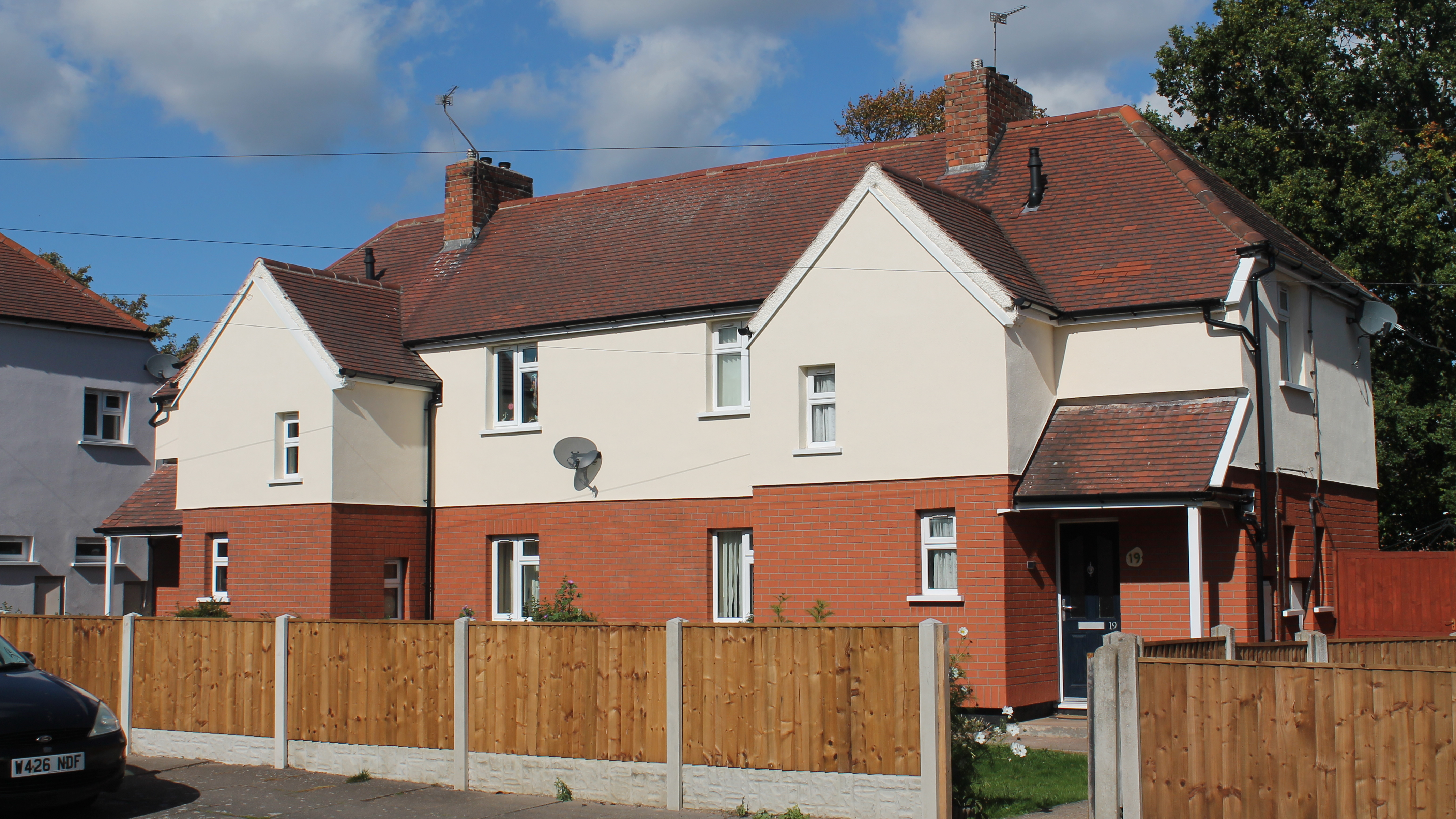 External Energy Efficiency Works
Broxtowe, England
Project Value: £1.6m
Introduction
Broxtowe Council awarded Sustainable Building Services this contract to deliver energy efficiency improvement works to 182 occupied properties under the Efficiency East Midlands Framework.
Important challenges on the scheme included a limited capital budget and a scarcity of funding opportunities. This meant that the client did not expect to be able to make improvements to all of the properties. However, SBS saw that if it could accelerate the pace of delivery, it could create an opportunity to draw down additional late-stage ECO2 funding.
The project
To help ensure rapid completions, SBS worked closely with the client and the system designer, PermaRock Products to address early planning consent issues.
One such issue was colour. The brickwork on the existing properties had weathered and planners were concerned that a new, standard brick effect render might look out of character with the neighbourhood. The chosen finish therefore had to be adapted to give it an 'aged' effect. By producing samples and visualisations, SBS and its partners were able to satisfy the local planning department so that work could proceed without undue delays or risks to funding.
A second challenge was the scattered distribution of the properties, which often had to be treated in clusters of no more than 4 or 5 homes. This demanded effective stakeholder communication and scheduling, and careful attention to issues such as access, resident communications and materials deliveries.
As part of SBS's collaborative approach, PermaRock technical staff inspected the installations as work progressed, ensuring that they were being fitted to the correct specification. This supplemented the inspections routinely carried out by SBS site managers and the funding provider, E.ON. This shared effort helped to keep a strict focus on quality, which ultimately produced a 100% handover success record with zero defects.
Results
This fast, quality-focused approach enabled SBS to progress well ahead of the original schedule, and this created a window of opportunity for an extension. SBS liaised with E.ON, which agreed to provide further ECO2 funding and, consequently, SBS was able to complete installations to a further 55 homes, bringing the total to 237.
Backed by a 25-year SWIGA guarantee, the insulation systems are yielding appreciable energy savings and should enhance residents' living conditions for many years to come.
In delivering the scheme, SBS used local labour, local scaffolding suppliers, local waste handlers and a locally appointed, full-time RLO. The project was subsequently shortlisted by Efficiency East Midlands for its Building Communities Awards, under the category of Project of the Year.
The success of the scheme also led to SBS winning subsequent projects for Broxtowe BC. This included fitting external wall insulation and other measures to a further batch of occupied homes, drawing upon LAD funding.
No. of Properties
237 Occupied Properties
PAS 2035:2019 / 2035:2019 Roles (SBS Supplier Network)
Principal Contractor / Retrofit EEM Installer
PAS Energy Efficiency Measures
External Wall Insulation
Associated works
Concrete Repairs / Re-roofing / Remedial Steel Work / EWI Adaptations